SHOW ROOM / MOBILE OFFICE TRUCK
Pre-Owned 2016 Ford F550 – 18' Body

GAS GENERATORS | WATER TANKS | CABINETS | TV | FRIDGE | AWNING
**
ONLY 6,500 MILES
**
This beautiful truck is equipped and ready to go ! Whether you want to make it into a mobile living space, a mobile office space or something unique to your needs, we stand ready to deliver this truck to you. It's only been driven 6,500 miles and we can work with you to do any additional modifications you may need. Great lease-to-own and purchase options so please call today !
KEY VEHICLE SPECIFICATIONS
2016 Ford F550 Chassis
V10 Gasoline Engine
6 Speed Automatic Transmission
Power Group Package
Dual Bucket Seats – Grey Interior
AM/FM Stereo
19,500LB GVW
18' Rockport Box with curbside slider door with step well
CUSTOMIZED UP-FIT
Electrical
Two (2) 7.0KW EFI Onan Quiet Gas Generator
50 AMP Bass Panel = 50AMP Breaker for each generator
Two (2) Automatic Transfer Switch
Two (2) Marinco Auto Eject Shoreline for Rooftop A/C unit
200AMP Battery Separator
100Ah Battle Born Lithium Ion 12V LiFePO4 Deep Cycle Battery
115V outlets for 55" TV
115v outlet for general use
115v outlet for hot water heater
115v outlet for general use
115v source for general use
115v outlet with USB ports
115v source for Galley – Mini Frig
GFCI outlet exterior curbside of van
Interior Walls and Flooring
Reflectix Insulation on walls and ceiling
FRP board/covering on walls
1/2" subfloor lined Pergo style flooring – design
Pinewood tongue and groove style ceiling
HVAC and Ventilation System
Two Dometic 15000 BTU A/C Rooftop unit with heat pump and programmable thermostat
Fantastic Vent with 3 speed fan
Carbon Monoxide Detector – Battery powered
Smoke Alarm – Battery powered
Lighting Interior
30' LIGHTOLOGY TRULINE 1.6A 5W 24VDC PLASTER-IN LED SYSTEM
Four (4) 2.5" slim line round LED lights under overhead cabinetry to illuminate display area
.
Lighting Exterior
One (1) 400 Series LED Scene Lights Curbside Exterior – Porch Light
Two (2) 5" LED BACK UP LIGHTS
Interior Storage
90" x 14" x 14" Overhead cabinets on front bulkhead wall
90" x 18" x 36" Base Cabinets on front bullhead wall – Base cabinet will have one adjustable shelf in each cabinet
Sink
30" x 22" Base with sink basin and faucet
sink basin with faucet in R.H. base cabinet (adjacent to side slider door) mounted at front bulkhead wall
Countertop
Corian countertop at front bulkhead wall and sink base
Exterior Storage
Two (2)18" x 36" stainless recessed storage boxes
Water Supply and Recovery
20 Gal Fresh Water Tank – Tank will be mounted in base cabinet mounted at front bulkhead wall
30 Gal Grey Water Tank mounter under exterior body – plumbed with external dump valve
Bosch 5 gallon hot water heater – Heater installed at rear sink
Audio/Video
55" Samsung TV
AM/FM/BLUETOOTH Stereo with two speakers for work area
HDMI cable from TV to wall plate
.
Galley
5.2 cu ft Mini Frig in center of front base cabinets
Window
RV Style Window 48" x 24" with slider
Bulkhead
½" plywood prior to covering wall
Awning
12' Electric Awning with wind sensor
Exterior Step
Aluminum Manual step installed at side slider door
Hand Rail
RV style rail for customer entry
Running Boards
Running boards at driver's side and passenger side door
Wheel Covers
Stainless steel wheel simulators
Camera
Back up safety camera with 7" color monitor
*Price does not include tax, title, delivery or other related costs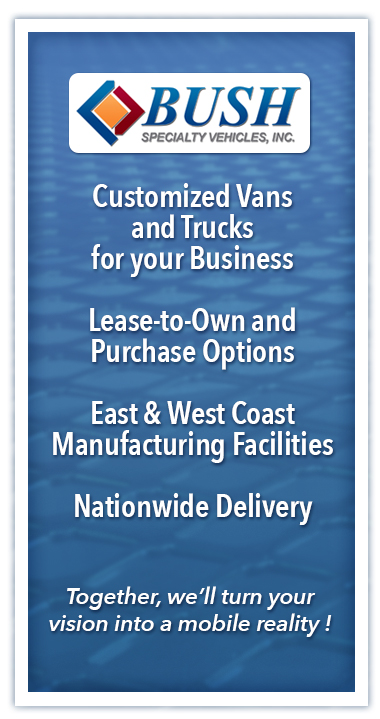 CHECK OUT OUR OTHER GREAT VAN OPTIONS: