An effective mobile command center vehicle delivers the optimum combination of mobility, efficient space use and functionality. Every square foot of interior space needs to be optimized for this critical 1st responder vehicle. This optimization includes the integration of high-end technology and communications equipment to enable personnel immediate access to the information they require. Bush Specialty Vehicles has the experience you're looking for to create your customized mobile command center.
Negotiator area with captains chairs & table
Computer workstations with storage drawers
Flatscreen monitors
White boards
Galley with refrigerator, microwave and coffee options
Phone system with multiple stations and intercom
Flat screen reverse monitor
Gas generator
Air conditioning units
Auxilliary batters
Power converter
Sine wave inverter
Interior lighting
Secure storage
Outlets at all workstations and negotiator area
Whelan scene lights on side and rear
Whelan strobe lights front and rear mounted
Ssiren and PA system
Corner mounted manually raised flood lights
Aluminum water tight storage boxes mounted under vehicle
Satellite TV receiver (connected to interior monitor)
CONTACT REQUEST
Fill out the simple form below and we will contact you right away !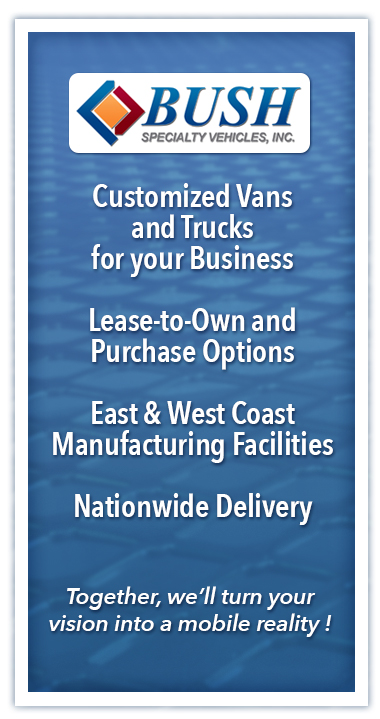 CHECK OUT OUR OTHER GREAT VAN OPTIONS: